About Renown
Renown takes the most enjoyable and popular aspects from contemporary open-world survival games which include Building, Progression and Social Politics. These are then combined with close quarters, skill-based combat to create an immersive and engaging multiplayer experience.
Combat
The combat system functions with a set of easy to learn, hard to master fighting mechanics. The system is also built so that it is very easy to understand, allowing new players to easily learn the basics. As players become comfortable with the system, their developing level of skill becomes a major source of enjoyment.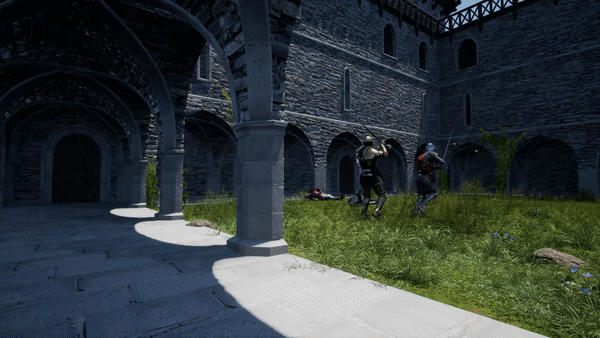 Building
The building system uses an easy-to-understand and deploy method. This allows for greater depth when creating both small and large castle or village-type structures. From a small house with only a door, players expand into fully customized castles, creating structures truly unique to the person's ability and experience.
Raiding
The raiding system represents the pivotal activity that all types of players can undertake in-game. What's the point in building a great castle if you can't level someone else's to the ground. In a way the players are always in an "Arms Race" to see who can build the strongest, smartest, and most awe-inspiring structures. We want to provide you with just as awe-inspiring weapons, siege engines and all the utilities required for an ongoing medieval war.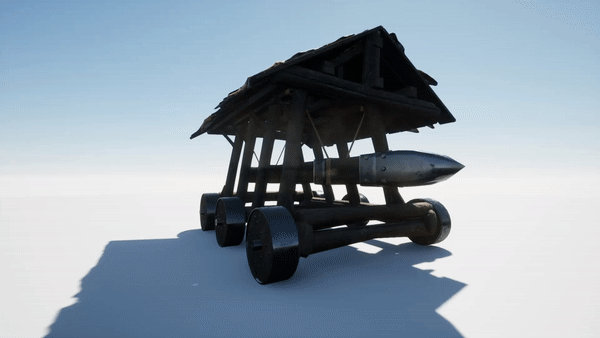 Gathering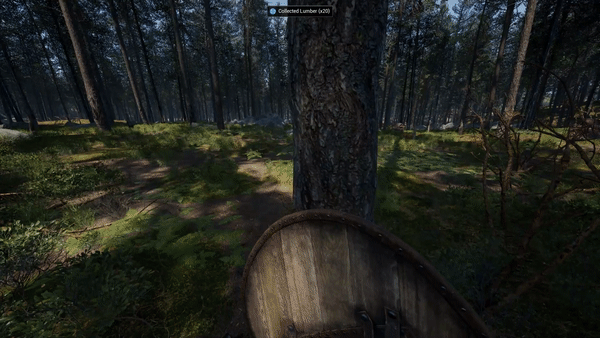 Crafting
Key Game Features:
Fast-paced medieval survival with a strong emphasis on melee combat.

From building humble farms to huge fortresses, the choice is with the player.

A focus on horses, carts, and cavalry warfare.

Custom armor system that deflects ranged attacks.

Group systems for making Claims, taking titles, giving ranks and more.

Server Progression and Wipe systems, for an engaging and vastly replayable experience.

Tools for Community Hosts to help tailor their servers. Future plans for extensive moddability.

Functioning Combat Alpha waiting for players
Get the very best Renown Server Hosting from GG Host!
Renown Server Rental

Ultra-performance server (no need to pay extra for the best performance)

11GB of RAM Free!

M.2 NVMe SSDs as a standard

Why GG Host Servers for Renown?
If you're looking for your own Renown server, GG Host is an excellent choice, here's why:
Performance - Our servers have all the performance you need, no need to pay extra.

NVME - Our servers have NVME as standard.

Intel & AMD - We're using Intel® Xeon®, Intel® Core®, and AMD EPYC™ processors.

Instant - Most of our services have instant setup, get playing right away.

Connectivity - 1Gbps is standard on our game servers.

Server auto-updates when new patches and hotfixes release.

SFTP - Get technical with config and log files via SFTP.
What our customers have to say
Don't take our word for it. Below is what our existing Renown customers say about us:

Faceroll_Fatality
This is by far the best server host my community has EVER used and we have used all the "Major Brands" Nitrado,PingPerfect etc for our SCUM Servers. the Hardware is Legit! you are not another sucker being hosted on some kids Bitcoin mining rig in the burbs. Great Connectivity, Great systems.. but hardware aside the HUGE bonus for me is the Customer Service! With a game like SCUM where we are receiving almost Monthly minor patches and adjustments to the game things get weird... GGhosing have 100% been Active in the SCUM Community and are in Direct contact with the SCUM Developers. When things go wrong (And they always do with games in Development) These guys are ALL OVER IT. A Server host that Submits Bugs, offers solutions to issues and Genuinely care about the state of the games they are hosting. 10/10

FeaR
Best Hosting Provider In The Market! I'm using this company for SCUM hosting and it is the best! I had a chance to use all other providers, sadly they are not even half close to what I get here. Server Performance is outstanding, support is basically like I would be talking with my close friend. If I ever have a question or some kind of problem, opening a ticket and getting support is rapid. I really this if someone is thinking about opening a server this is the final destination, as you will not find anything better.
Roach
The other hosts are a joke compared to GGhost I use GgHost to host a busy gaming server. I recently made a switch from a competitor host. All of my problems were solved with GGhost that I had with the other server hosts. I am just absolutely amazed at the difference and would never consider leaving GGhost ever.... E-V-E-R.... you guys rock !! Thank you ;)
Introductory Renown Video
Curious to see more about Renown? Watch the video below: